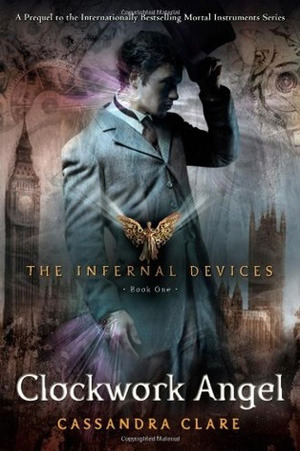 Author -
Cassanda Claire
Series- The Infernal Devices- Book 1
Published-
Published August 31st 2010 by Simon & Schuster, Margaret K. McElderry
(first published September 6th 2009)
Pages-
Hardcover
,
First Edition
,
479 pages
Generes- YA Romance, fiction, Young Adult
Source- Borrowed from Library
Premise Excerpt
In a time when Shadowhunters are barely winning the fight against the forces of darkness, one battle will change the course of history forever. Welcome to the Infernal Devices Trilogy!
My Thoughts
Where do I begin? This book is so full of suspense and drama it's mouth watering. I love that it's set in old world England, my favorite setting, a mysterious place indeed. Cassandra has a wonderful way of drawing the reader in. I wanted to live in the world she created. The romance was just right making me want to read the little tidbits over again. Definitely a great series to read in the winter to set the mood.
My Rating
Thanks for reading my post. Tell me what books are you reading? Have you read this book? What do you think about it? Leave your comments below!
Don't forget to share this post all over the internet!
xooxo
Shanda G.
Follow me!
Twitter ..... @ShandaGTV_
Tumblr......... http://shandagtv.tumblr.com

Disclaimer: Opinions that I give are honest and yes they are my own. All affiliate links will be marked with an *. If it's sent to me for review or given it will be marked with **. Other wise it was purchased by me. This is not a sponsored post. In other words I was not paid to do this post. Photo and premise from goodreads.